My latest guest to join in the gift retreat is the lovely and sweet Calli of Make it Do. Calli's blog is stock full of great tutorials. I would love to try her cozy bed warmer, and I am in desperate need of practicing this pie crust since I'm lame at pie crusts (I've also received a couple great tips from some of you. Maybe there is still hope for me.)
Calli has a fantastic simple idea to share today, so I'll let her take it away.
+++
Hi, My name is Calli from Make it Do. I'm so happy to be here at The Giver's Log talking about handmade gifts.
There is no better way to show someone you love them than to spend time creating their gift. One of my favorite handmade gifts I made and gave last year for the Holidays was a Snowman Kit.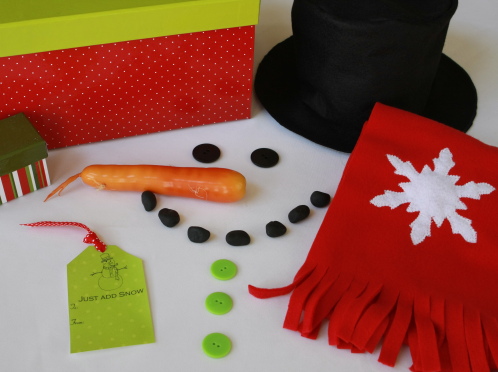 This gift is wonderful for so many reasons. It is inexpensive, the kid's are able to help (by gathering and painting the stones), and it is so FUN to make.
It's also giving the gift of wonderful memories. A simple snowfall can turn to magic, when the day is spent as a family, making a fat, round snowman.
Be sure to check out my tutorial on how to make a snowman kit. If you don't want to sew a cap for your snowman, like I did, after-Halloween sales are the perfect place to find a fun and whimsical snowman cap.
And don't forget to make and give Hot Chocolate on a Stick with your snowman gift… it'll be the perfect way for your friends to end their snowy adventure.